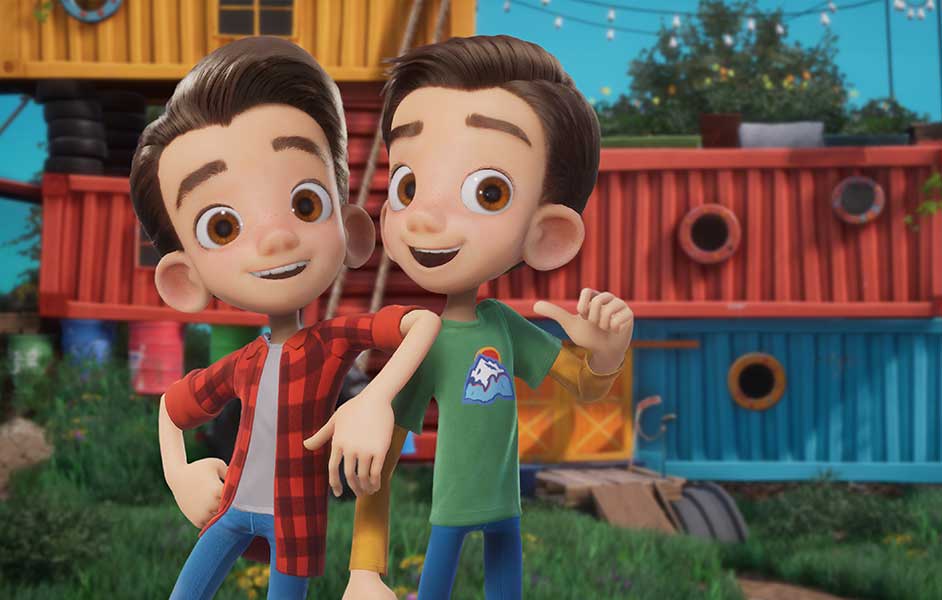 Original Series is First 3D Fully Animated Production from Sinking Ship, and the Debut Kids' Show from Home Renovation Gurus and Children's Authors Drew and Jonathan Scott
(Toronto, June 15, 2021) – Leading global kids' entertainment company Sinking Ship Entertainment (Odd Squad, Dino Dana) and international entertainment production company Scott Brothers Entertainment (Property Brothers: Forever Home, Brother Vs. Brother), have appointed Nelvana (Ranger Rob, Max & Ruby) to distribute Builder Brothers' Dream Factory, a new animated kids series for top media content company Corus Entertainment.
The highly-anticipated original series for kids ages 4-7 marks a milestone for both Sinking Ship and Drew and Jonathan Scott, as it is the first 3D fully-animated show from Sinking Ship and the first kids' production from Scott Brothers Entertainment. The 20 x 22-minute episode series will feature animated versions of the popular twin renovation experts Drew and Jonathan as 8-year-old boys trying to solve neighborhood problems – one big dream at a time. Sinking Ship's Carla De Jong and Scott Brothers Entertainment's Amory Millard will executive produce.
"Builder Brothers' Dream Factory is an exciting project for us on many levels, and now we get to work on it with the talented teams at Nelvana and Corus, too," said De Jong. "We're building this new series to resonate with kids and families, just as Drew and Jonathan's home renovation programming appeals to audiences of all ages in over 160 countries worldwide."
"This new series aims to help children understand that, with imagination, creativity and determination, they can accomplish big things," said Millard. "The series concept is inspired by the brothers' childhood and the core values their parents instilled in them from a young age. They have continued to uphold these values in all aspects of their lives, and we're delighted to partner with like-minded companies to make this optimistic and feel-good series a reality."
In Builder Brothers' Dream Factory, Drew and Jonathan's extraordinary imagination, creativity, grit and heart – coupled with a big dose of "twin-spiration" – help solve problems in their neighborhood by dreaming big…really big…sometimes too big! Along with their dog Moose and best friends, Mel, Cee-Cee and Aiden, the Builder Brothers navigate the highs and lows of trying to make the world a better place – one big dream at a time.
A character-driven comedy series at heart, the series doesn't shy away from real kids' issues and what they go through in navigating life's ups and downs. It encourages kids to share their ideas, dream big, and not be disheartened. Its focus on resilience and problem-solving is what helps set the show apart.
About Nelvana
Entertaining kids for over 50 years, Nelvana is a world-leading international producer and distributor of childrens' animated and live-action content. Nelvana produces a stable of award-winning and globally renowned brands that focus on comedies, preschool and action series and ancillary consumer products programs. Nelvana's content airs on Corus Entertainment's kids channels in Canada and in over 180 countries around the world. The Nelvana library has well over 4,700 episodes of programming and has received over 70 major international program awards including Emmys® and Canadian Screen Awards. Visit the Nelvana website at nelvana.com.
About Corus Entertainment Inc.
Corus Entertainment Inc. (TSX: CJR.B) is a leading media and content company that develops and delivers high quality brands and content across platforms for audiences around the world. Engaging audiences since 1999, the company's portfolio of multimedia offerings encompass 33 specialty television services, 39 radio stations, 15 conventional television stations, a suite of digital and streaming assets, animation software, technology and media services. Corus is an internationally-renowned content creator and distributor through Nelvana, a world class animation studio expert in all formats and Corus Studios, a globally recognized producer of hit scripted and unscripted content. The company also owns innovative full-service social digital agency so.da, lifestyle entertainment company Kin Canada, leading 2D animation software supplier Toon Boom and children's book publishing house, Kids Can Press.
Corus' roster of premium brands includes Global Television, W Network, HGTV Canada, Food Network Canada, HISTORY®, Showcase, Adult Swim, National Geographic, Disney Channel Canada, YTV, Global News, Globalnews.ca, Q107, Country 105, and CFOX, along with broadly distributed Canadian streaming platforms STACKTV, Nick+, the Global TV App and Curiouscast. For more information, visit www.corusent.com.
About Scott Brothers Entertainment
Scott Brothers Entertainment (SBE) is a multifaceted production company that strives to develop cutting-edge entertainment by combining years of experience in film, television, and digital media. Winner of the Most Innovative Producer of the Year Award at the 2019 Banff World Media Festival, SBE is the brainchild of co-founders Drew and Jonathan Scott and has evolved from start-up to competitive content creator with a laser-sharp focus on innovation, expansion, and working with like-minded partners. For more information, visit www.sbentertainment.com.
About Sinking Ship Entertainment
Sinking Ship Entertainment is a multi-award-winning production, distribution, and interactive company specializing in family and kids' live-action and CGI-blended content. Since its founding in 2004 by J.J. Johnson, Blair Powers and Matt Bishop, Sinking Ship has produced more than 17 series and 500 hours of content, distributed to more than 200 countries around the world. With a global reputation for quality, groundbreaking original series and companion interactive experiences, Sinking Ship has won 21 Daytime Emmy® Awards, including Outstanding Pre-School Children's Series for Dino Dan: Trek's Adventures (Nickelodeon), Outstanding Children's or Family Viewing for Odd Squad (PBS KIDS), Outstanding Children's or Family Viewing for Ghostwriter (Apple TV+) and Outstanding Education or Informational Series for Giver (ION). International awards include a 2019 BAFTA for Odd Squad and multiple Canadian Screen Awards, Youth Media Alliance Awards, Parents Choice Awards, the Shaw Rocket Prize, and the Prix Jeunesse International. In 2020, Sinking Ship was also named as the number one Kids' Entertainment Production Company on Kidscreen's Hot50 list.
Among the series currently in production are the third season of the worldwide success, Odd Squad, as well as the upcoming new series, Jane, inspired by and co-produced alongside renowned primatologist Jane Goodall. Currently in pre-production is the series Builder Brothers' Dream Factory, in partnership with Scott Brothers Entertainment. In addition to its critically-acclaimed productions, Sinking Ship operates a cutting-edge VFX and Interactive Studio, creating multi-platform digital experiences and interactive content for audiences around the globe. For more information, visit the Sinking Ship website, Facebook, Twitter, and Instagram.